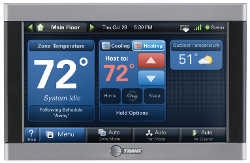 If you have a room that is warmer than the rest of your home and want to cool or heat it without effecting other rooms on the same air conditioner; then having
zoning
done to your ductwork and system or possibly getting a new air conditioner is necessary. It's a good solution because you can have a thermostat/sensor for that individual room to read the temperature back to a central thermostat to maintain that rooms desired temperature. A true zoned air conditioner is a communicating system that has a central programmable thermostat along with wired zone sensors for each "zoned room" to control motorized dampers in the ductwork that control airflow. Communicating AC units with variable speed motors and compressors are necessary to
efficiently
cool the home, otherwise it will cost more money in the long run to run a system that doesn't take communication or variable speed components into effect.
How Efficient Is It?
Zoned air conditioning systems with a programmable thermostat and a communicating system, if installed by an expert contractor, will deliver a very efficient system. An expert contractor is necessary so that the system operates properly throughout its life; a system that operates improperly will cause you to deal with breakdowns in the future. The system efficiency depends on which rooms (or zones) sensors are calling for cooling because then it will know what speed to run the motors and compressor.
Trane the brand we typically work with as we are Trane comfort specialist have a unit called the XV20i; it's a variable speed unit and along with a communicating air handler/furnace is an efficient system you can zone.
What Are Dampers?
A damper is a motorized plate in your ductwork that blocks or allows airflow through. The dampers will separate parts of the ductwork and is controlled by zone sensors. The dampers will open and allow airflow into the room when the zone sensors tell the thermostat that cooling or heating is needed.
Wired Zone Sensors and Programmable Thermostats
Programmable thermostats are necessary for your system to have its communicating capability put to use. They have a computer in them that gives them the ability to control a zoned system. With the comfort link II system that Trane makes, only one main thermostat is necessary thanks to their wired zone sensors. The wired zone sensors will tell the thermostat when its zone needs cooling or heating. This technology is awesome because it leaves the control of each room to just one thermostat and can program a schedule and connect to the internet for long distance control.
Trane's Xl950 along with zone sensors/thermostats is what we recommend to control the system.