A server room gets really hot due to the strenuous amount of work they are put under and without an air conditioner, your phone lines are put at risk for crashing and your database will possibly lose data. If you need a server room AC installation, we do free estimates in the Phoenix Metropolitan. 
Portable AC 

Units

Mini-split Air Conditioners

Installation for a Newly Built Server Room
Replace Existing Air Conditioner

Zone Your Existing System
We're a solution and customer service focused company that will provide you with an awesome quote and installation.
First Finding a Solution
Before we do your server room AC installation we need to decide what is going to be the best solution per your situation. That is all depending on the existing system, design of the room, and the amount of heat being produced by the servers. Having us out for a quote and figuring out a solution is the best way for us to find out how we're going to cool those servers. We've got our services listed below but don't just limit us to that because we are flexible in finding solutions.
Replace Your Existing System
If you've had some cooling issues and think it's time to replace your air conditioner, we can provide you with an expert solution. In server rooms, we typically install mini split air conditioners since they work best for cooling individual rooms. Replacements are one of our more popular services, our installers routinely perform them. Their experience combined with their knowledge guarantees the air conditioner will work most of its life without repair since installation plays an important role in how the unit is going to work.
Zoning
When getting a new air conditioner we can zone it so that individual rooms or zones are able to be individually cooled. Basically, we will put dampers in your ductwork and have the dampers connected to a central programmable thermostat to control airflow. This way you will only have one AC unit that will direct airflow just to the server room so it only cools that room when it's needed. Cool your server room by zoning your system and improve efficiency and stop server crashes.
New Construction
If you're building a new server room and need help with planning and finding a company to put the air conditioner in, we can be the company for the job. We've worked with newly built homes and big remodel jobs that needed the whole air conditioning system. A whole system includes major components like the compressor and air handler, line-sets for Freon, electrical connections, and the ductwork. Just send us the plans to mail@smwrefrigeration.com, so we can give our free quote. Each job that involves designing and planning has its own specifications, so we'll be ready just for you!
Trane Comfort Specialist
Our company works with Trane brand air conditioners as Trane Comfort Specialist, a title we earned in order to sell Trane's products. Basically, we proved that we are the best in on the field service, installation, customer service, and on-going staff training in order to be a dealer. We chose Trane because it's the top notch and reliable choice we wanted for our customers. These air conditioners combined with our detail-oriented installers, delivers a perfect combination of product and installation, bringing you the best in air conditioning.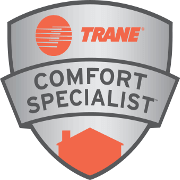 Equipment We Install
Trane Mini Split Pictured Above. Condenser (Left) and Air Handler (right).
Mini Splits
Mini splits are AC units made to provide air conditioning for individual rooms, making them great for server rooms. They are like a split style air conditioner but on a smaller scale. There is a condenser with a fan placed outside the room to reject heat and an air handler mounted on the wall inside to absorb heat and provide cooling. You can control these systems with a thermostat or remote depending on what you get. As far as efficiency goes it depends on how hot your room gets and what SEER rating your system will have.
Portable AC Unit Pictured Above.
Portable 
For smaller business that don't have large server rooms, we can connect a thermostat, set up a drain line for moisture, and do custom duct work for a portable AC unit. We pretty much "hack" the normal functions of the portable AC unit to make it permanent so it works properly and efficient. Portable units normally just sit in a room and don't work efficiently, in order for adequate server cooling to be achieved, professional service is necessary. If you have a small server room, a portable AC unit install by us may be just what you need.