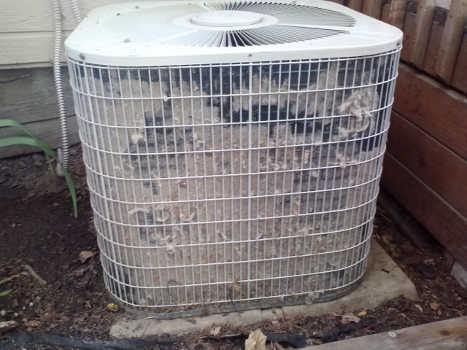 Dirty Condenser Coil Pictured Above
Why They Should Be Cleaned
It's important to have clean coils for your air conditioner because they are a major part of keeping your home cool (or warm if you have a heat pump for heat). Your home can only be cooled down because heat is being removed through a process of heat transfer. There are 2 coils; the inside (evaporator) and the outside (condenser). The condenser coils are important because all the heat that is picked up from inside is transferred to them through coils containing refrigerant and then removed by a fan through the air. At the evaporator air is blown over those coils to transfer the heat inside to the condenser coil outside. It works vice versa if heating with a heat pump. It's critical the coils are maintained because if they aren't, it can increase the cost of running your system up to 35% more! Some people might not worry about spending a little more money on energy bills but your coils can clog up with so much dirt and debris, the next thing you know your systems not working on a hot day. This can result from the increased pressure of the system, operating temperatures, and failing motors; but luckily you can prevent dirty coils and system failures with regular maintenance. Keep your coils clean because it makes a huge difference for your air conditioners efficiency and so that it operates properly.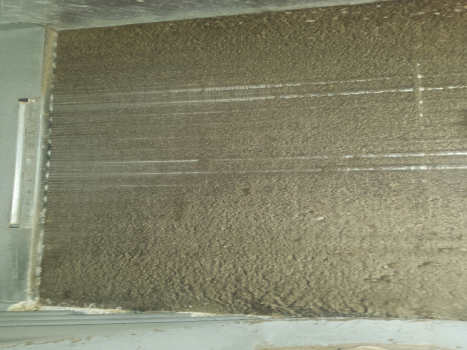 Dirty Evaporator Coil Pictured Above 
How it's Done Professionally
We clean both the coils with a spray on foam that picks up most of the dirt and debris; there is a special one for condensers and one for evaporators. We use the Nu-Calgon brand for both. Once the foam has set in and picked up the debris the coils are rinsed off and a cloth is placed underneath the coils to ensure a clean and safe environment. To avoid any danger or possible damage to the unit always make sure a licensed HVAC technician is doing the work.
When To Clean Them
Having them cleaned once a year before summer time during a routine maintenance check is the best way to maintain clean and efficient coils. A technician will be able to clean them properly, find any efficiency problems, and possibly prevent a breakdown. Routine coil cleans once a year is a benefit our Preventative Maintenance Agreement Customers enjoy with their contract. We check their unit every 6 months or twice a year. If you have any questions and are interested in having maintenance done, give us a call today!
What You Can Do
You can make sure to regularly change your filters, about every month, to help make sure that the indoor coil (evaporator) does not get dirty. Always date the filters, that way when you check them you know how long it's been since changing them. If you can visually see that the filter is dirty then it is time to replace it. That coil is harder to get to (some units it's really hard) and the air that is conditioned in your home passes through it. If it is dirty there may be a lot of dust spread around your home and the unit will not cool efficiently. Also, if there is a light amount of debris on your condenser coil you can use a water hose to rinse it off.