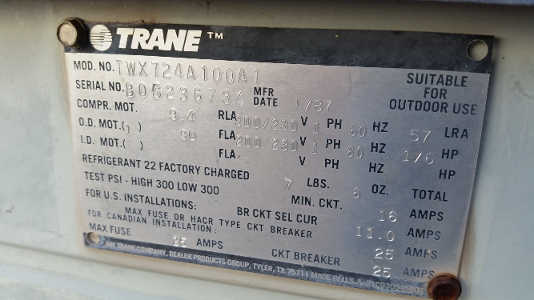 1987 Trane a/c model and serial. (pictured above)
An Original A/C
1987 Trane | TWX724A100A1
We recently replaced a 1987 Trane Air Conditioner in Gold Canyon Arizona with a brand new Trane system.  Even though their unit was still operational and about to finish its third Decade in the Desert, our customer opted to retire it to greener pastures, in favor of a new system. Back in the day this 1987 Trane (TWX724A100A1) represented the latest Technology in HVAC! It had the modern components that most air conditioners still have like a compressor, control board, and coils but after that long in the desert it went through a few repairs. While the old unit got them through the heat adequately proving that it is "Hard To Stop A Trane™ " the new Trane systems are superior in durability, reliability and efficiency, like the XV20i by Trane.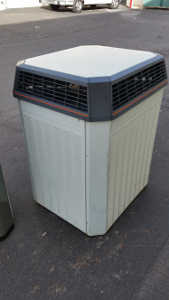 Original 1987 Trane a/c condenser.
(pictured above)
The Latest in A/C Technology
Variable speed has been around with Trane but with the XV20i, Trane has truly perfected their technology.  It features a variable speed compressor that allows it to adjust its speed and run at at only the speed necessary to efficiently cool or heat your home. When paired with a communicating air handler or furnace the XV20i will also adjust the indoor fan and outdoor fan in increments of 1/10th of one percent! Your air conditioners components being able to change their speed will put less stress on it, remain durable since Trane is a quality build, produce maximum efficiency, and allow the unit to last another 30 years or even a lifetime.
1987 and XV20i Trane a/c condensers together.
(pictured above)