Its important to reduce electrical cost especially when it's the most expensive utility in Arizona. We've got a few tricks up our sleeve and were going to tell you about them.
The best ways to spend less money on air conditioning and improve efficiency is to get a programmable thermostat, get a new efficient A/C unit, zone your system, have your ducts sealed, improve insulation, and routinely schedule maintenance.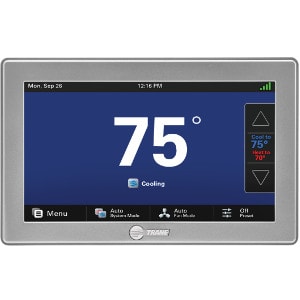 1. Programmable Thermostat
If you're on a budget the first and least expensive thing you can do is to upgrade your thermostat to a programmable thermostat. For example, you could get the Nexia ComfortLink™ II XL1050, this thermostat specifically can be:
programmed to have up to 4 schedules a day, 7 days a week
monitor remotely from your smart phone
if you have a variable speed system with communicating capability it will also control the compressor and fan speeds for optimum efficiency
Even if you don't have a variable speed unit the programming will allow you to control temperature settings without you having to remember. Its called home automation and is very beneficial for reducing electric cost.
If you work during the day the temperature can be raised while you're gone so that the unit does work as hard and cost less to run. Another great way it can save you money is if your utility company (like srp or aps) has energy saver plans, where there is lower electricity cost at certain times of the day, you can follow their guidelines without worrying about it.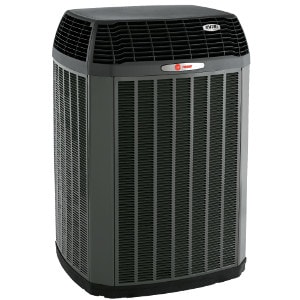 2. New Efficient A/C Unit
If your air conditioner is 10 years old or older it's important to consider your replacement options for the future. Once a unit has worked that long in the desert it can start suffering major (and expensive) breakdowns that aren't wise to keep repairing.
The cost of a high efficiency unit might be more initially but will save money in the future because of reduced electrical cost. Its one of the single best ways to save money on electric bills. Even if you don't get the most efficient unit the minimum SEER rating possible to purchase in Arizona is 14 while the highest older systems could achieve was barely 10, that alone makes a big difference in efficiency.
Another thing to consider is that if your system has R-22 refrigerant it's being phased out and replaced by R-410a. If there is ever a breakdown where you need refrigerant, the R-22 is getting very expensive because of it being phased out and one day will be impossible to get.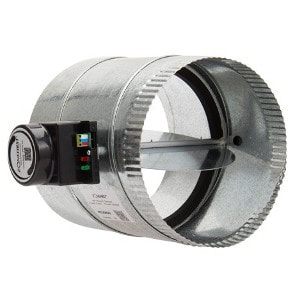 3. Zoning
One way to optimize home efficiency and achieve custom comfort for each individual room or area is by zoning your system.
Basically, you can use a variable speed communicating system with a programmable thermostat, with smaller thermostats or sensors for specific rooms and areas, to control zone dampers in your ductwork that control airflow. This can allow for maximum efficiency because you can program your thermostat to cool a specific area at a certain hour of the day. For example, you could maybe only cool your room at night so that way the rest of the house doesn't entirely have to be cooled down.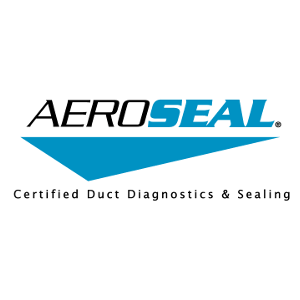 4. Sealing Ductwork
If your ductwork is leaking its going to cost you in electricity. Leaks will cause the unit to take longer to cool down the thermostat, overheat, and work longer and harder than necessary.
Having your ductwork sealed will stop air from escaping and will allow your unit to operate more efficiently. It's very important since it delivers the desired results of your air conditioner.
The best solution, which we offer and recommend is Aeroseal because it's a computer controlled machine that seals your ducts from the inside. We even figured out how much Aeroseal works!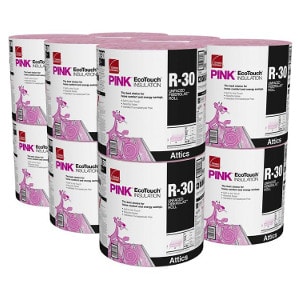 5. Improve Insulation
Insulation is rated with an R-value it's a measure of how much heat it can resist. Its important because it stops heat from getting in your home in the summer time or getting out in the winter. Upgrading your insulation to a higher R-value (energy star recommends at least 30) will improve how much heat is resisted.
Less heat entering your home will mean less of a load and you will have a more efficient system.
You might even be able to get away with a smaller size unit if you do enough home energy upgrades (after doing a heat load). Sometimes if you have 2 units you might not even need both of them. –>read more.
6. Routine Maintenance
Keeping up with routine maintenance and changing your filters will pay off in the long run.
If there is every any loss of efficiency and a part going out a licensed HVAC technician will be able to tell you when he's visiting for routine maintenance and make a recommendation. Regularly changing your filters will ensure you have proper airflow and help keep your ducts and air handler clean. Without routine maintenance your take the large risk of possible breakdowns and losses in efficiency(high utility bills).
We offer maintenance service and recommend scheduling about every 6 months to take care of your air conditioner.
"What to Look For: DIY Checks and Inspections." What to Look For: DIY Checks and Inspections | ENERGY STAR, EPA/DOE, www.energystar.gov/index.cfm?c=home_sealing.hm_improvement_inspections#attic.